our breathtaking newsletter
Weekly gloriousness sent to your inbox.
Thursday, April 26th - 6:00 PM-8:30 PM

DERF Happy Hour
Keep checking back here to find out where the next DERF Happy Hour will be!
Catholic Priests provide security checks for kids at airport check-in lines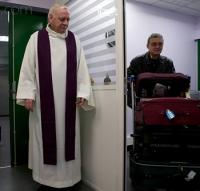 CINCINNATI INTL AIRPORT (CVG) - As a response to the uproar over airport security measures, a group of American Catholic priests has offered up their services to the U.S. Transportation Security Adminstration (TSA). Priests will be on hand to provide security check-in for children at the nations airports.
"This is a win-win-win-win situation," said Father Thad O'Connell. "Though the church tries its best to stay away from controversial political issues, we are proud to serve our country when needed. Especially when that service is to be provided to young boys. The youngsters are probably a little nervous to be traveling in the first place, and I think the warm smile and tender hand of a priest will make things go much smoother."
Some have had reservations over letting priests take over the positions, considering some of the church scandals involving children. "If they really wanted to go after terrorists, they should have brought in some ruler wielding nuns," said parent Mike Luft. "Until my Bobby learns to throw a better uppercut, I think we'll be taking the bus."
The new security team of priests insist they are ready to jump right into the jobs. "Make no mistake," said Father Blaine Winchester. "There will be no stone left unturned as we pat down these young travelers. Airline safety will never be in doubt, which, by the way, should not make anyone think about the movie "Doubt", which was a complete fabrication."
The priests will operate in small, confession booth sized cubicles just off of the main airport security lines.
Related Stories