our breathtaking newsletter
Weekly gloriousness sent to your inbox.
Sunday, June 24th - 6:30 AM-10:00 PM

DERF Happy Hour
Keep checking back here to find out where the next DERF Happy Hour will be!
Downtown parking meters now equipped with loan officers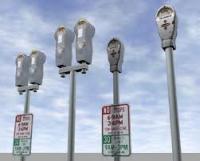 CINCINNATI, OH - Days after announcing that downtown Cincinnati parking meters will be equipped with credit card readers, officials have also announced the deployment of bank loan officers that will accompany all downtown parking meters.

Parking rates downtown have increased to two dollars an hour, and further increases are expected thanks to the new meters. "If people are paying with credit, it's like they don't feel like they are paying at all," said city parking administrator Everett McDonald. "And now that we're providing loan officers who will turn these fees into 30 year non-assumable debts, we might as well hike up the rates."

The loan officers will be stationed next to the meters during business hours and will be able to offer downtown parkers a streamlined lending process. "The documents we need to file are rather simple," said loan officer Marcus Gardner. "Most loans will be approved in a manner of minutes. In fact, probably too many will be approved and it will lead to a parking meter loan crisis, requiring a government bailout, but whatever. I'm just happy to have the job in this tough economy."

After business hours, the loan officers and their desks will be chained to their respective parking meter post to prevent them from being stolen.