our breathtaking newsletter
Weekly gloriousness sent to your inbox.
Saturday, June 23rd - 7:30 AM-12:00 AM

DERF Happy Hour
Keep checking back here to find out where the next DERF Happy Hour will be!
Yacht club waste dumped in Ohio River. Hooters waste battered, fried, sold to happy customers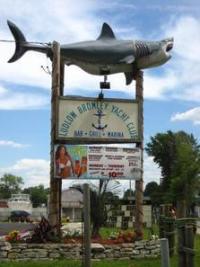 LUDLOW, KY - Following reports that untreated waste from the Ludlow Bromley Yacht Club has been entering the Ohio River, management at the Newport Hooters was quick to point out that Hooters' waste is battered, deep fried, and sold to happy customers.

"I've always liked going to the LBYC," said Hooters customer Wayne Burbank. "But to think that they've been doing that to the river really troubles me. It's good to know that Hooters does not harm the environment. And, they don't put any undue strain on the Newport sewer system...because trust me, Hooters customers can work up a heck of a good strain."

Other restaurants along the river appear to be complying with all local sewer regulations. Though it is currently closed, Jeff Ruby has always maintained that the waste from his restaurant The Waterfront does not stink, and is in fact a Cincinnati treasure.

"Though we don't know the details downriver, we're troubled," said Hooters manager Greg Benfellow. "We think it is important to be a good steward of the environment, and we take that commitment at Hooters very seriously. If you don't believe me, come in and try our Golden Happy Niblett platter for yourself!"

The Golden Happy Niblett platter has been one of the Newport Hooters most popular menu items for quite some time. It consists of battered, deep fried nuggets of various shapes sizes and consistency. "It all comes out looking fantastic," said Hooters fry-station manager Kevin Trosper. "Trust me, if the fryer can make those chicken wings edible, it'll work on anything."