our breathtaking newsletter
Weekly gloriousness sent to your inbox.
Thursday, July 11th - 3:00 PM-9:30 PM

DERF Happy Hour
Keep checking back here to find out where the next DERF Happy Hour will be!
This article considered highly offensive by all peoples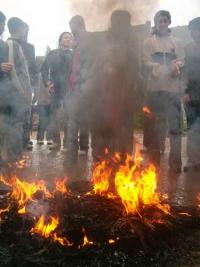 NEW YORK, NY - The Associated Press has reported a record number of complaints regarding this DERF Magazine article. AP polling indicates the entire article has been deemed highly offensive by every person who has read it.

AP Public Relations Director Ronald Tremayne commented, "This article is filled with hate and expresses a total disregard for mankind and all living creatures and organizations. We've never seen such blatant dispect for all peoples."

Formal complaints about the offensiveness of the article have been filed by all of the world's largest religious organizations, all fortune 500 companies, The Democratic Party, The Republican Party, The American Civil Liberties Union, the State of Kentucky, World Cup Soccer, Mothers Against Drunk Driving, Abercrombie & Fitch, The National Organization of Women, The National Football League, The Canadian Football League, Green Peace, The Ancient Order of Hibernians, The NAACP, The United Autoworkers Union, most Indian gambling casinos, PETA, The American Association of Retired Persons, The Big Ten, The Pac Ten, The SEC, residents of Norwood Ohio, and many public figures including George Clooney, Tim Tebow, Sean Penn and Lady Gaga,
"I'm not quick to be judgmental," said concerned citizen Morris Thompson. "But this article struck me as offensive the second I began reading it. I have sent DERF Magazaine a respectful email asking them to withdraw the article."

Throughout the world people have demonstrations and protests against the article. Many groups have risked arrest and prosecution by publicly burning the article.
Even the National Coalition Against Censorship and several free speech advocates have formally demanded the publisher remove the article. Despite tens of milions of similar requests, the publisher DERF Magazine has no plans to remove it or change it in any way.

"Our records show there are several people in the world who have not yet complained about this article. For those people, our true fans, we plan to ensure this article is always available to them." said a DERF Magazine spokesperson.

[Expess your outrage about this offensive, hate-filled article on the DERF Magazine Facebook Fan Page ]