our breathtaking newsletter
Weekly gloriousness sent to your inbox.
Saturday, June 23rd - 7:30 AM-12:00 AM

DERF Happy Hour
Keep checking back here to find out where the next DERF Happy Hour will be!
STUDY: 91% of blogger avatars too flattering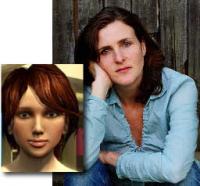 NEW YORK, NY - In the most comprehensive study of its kind, an independent research panel has concluded that 91% of bloggers use avatars that are excessively more attractive than themselves.

"We thought the numbers might reach a solid majority, but we were shocked to learn it was 91%," said study chair Jeremy Neighbors. "The other nine percent is made up of really good looking people, really honest people, and people who already resemble cartoon characters."

Members of the blogging world have not said much about the study, confining their latest blogs to subjects like health care reform, their favorite new spots for cupcakes, and pictures of their kittens. Michelle Sullivan of "Michelle's Many Musings" did not comment directly about the study in her blog, but removed the usual tall and slender yet busty avatar usually found on her home page and replaced it with a picture of a kitten licking a cupcake.

"I always had a feeling Trish didn't look like that," said Chip Tamellin, a daily reader of the "Trish's Sweet Dishes" food blog, which features an avatar named 'Trish the Dish' who resembles Halle Berry. "I saw her in person and I thought it was Bea Arthur. What a huge disappointment. This makes me suspicious of things they see on the internet."

In contrast, the publicity team for actress Megan Fox cannot find an avatar that is good-looking enough for her. "We're afraid today's technology makes developing an avatar as attractive as Megan is very challenging." said Fox's publicist Jennifer Sweeney.