our breathtaking newsletter
Weekly gloriousness sent to your inbox.
Thursday, July 11th - 3:00 PM-9:30 PM

DERF Happy Hour
Keep checking back here to find out where the next DERF Happy Hour will be!
Brent Spence bridge to be replaced by Ludlow built rope swing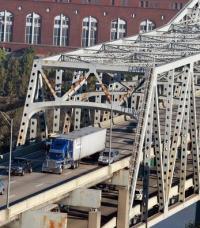 LUDLOW, KY - Amid the many plans being floated about for the future of the Brent Spence bridge, a team of citizens from Ludlow, Kentucky have approved their own plan and will begin construction immediately. The crew from Ludlow have engineered a design to replace the Brent Spence with a rope swing.

The four gentlemen behind the plan are neighbors, and concocted the idea while drinking beer on a local curb. "Some of my best ideas come when I'm having a few on the curb," said the group's spokesman Mike Dyas. "The rest of the world is whizzing around too busy to have any common sense, but me and the boys do things different. When you're sitting on a curb drinking beer, the world slows down and that's when inspiration is most likely to strike. One time we figured out how to cure the ebola, but we ended up getting too tanked to write it down. From then on, we always make sure someone has a napkin and a marker."

The plan calls for a rope to be hung from a very high tree. "The tall tree part is important," said another group member Don Houston. "That's why I made sure to write it down on the napkin. Once you get a rope up there, things will come together by themselves. It'll be a perfect time for the boys and I to take a break and enjoy a few pops while we watch the cars go rope-swingin' across the river."

Civil engineer Robert Benston is not sure that the plan will work, but is hopeful. "I only had a few minutes to look over the napkin," Benston explained. "But it seemed reasonable to me. The taxpayer money that was going to go to the bridge will still get thrown around to the crooked politicians and their friends, and a few people might actually be able to cross the river. Plus, these Ludlow boys are really fired up for the project, it'll keep them off the meth for a while. It's a win-win."