our breathtaking newsletter
Weekly gloriousness sent to your inbox.
Sunday, January 19th - 11:00 AM-5:00 PM

DERF Happy Hour
Keep checking back here to find out where the next DERF Happy Hour will be!
Brian Williams vows return to NBC after escape from ISIS captors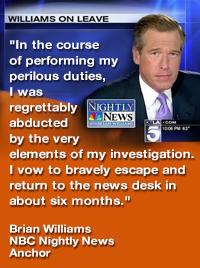 DAMASCUS, SYRIA - NBC executives have released a communication from Brian Williams revealing the news anchor is being help captive by Isis forces in Syria.
Williams reportedly managed to send the message through an underground courier network. Insiders say Williams previously said he learned this technique while working undercover as a courier during the search for Osama Bin Laden.
"The message was printed on Mr. Williams' personal stationery which is surprising but we are grateful he managed to maintain possession of a pad of stationery during his harrowing abduction." said NBC Universal CEO Steve Burke.

The message from Mr. Williams read as follows, "In the course of performing my perilous duties, I was regrettably abducted by the very elements of my investigation. I vow to bravely escape and return to the news desk in about six months."
NBC denies reports that the reported abduction is a plot to conceal plans for preparing Brian Williams to replace Rosie O'Donnell on the View. O'Donnell announced last week she is leaving the view. Her replacement has not been announced.
A spokesperson for Brian Williams has also denied persistent rumors that Mr. Williams has been offered a role in the upcoming film Blackhawk Down II.