our breathtaking newsletter
Weekly gloriousness sent to your inbox.
Saturday, June 23rd - 7:30 AM-12:00 AM

DERF Happy Hour
Keep checking back here to find out where the next DERF Happy Hour will be!
Cincinnati Enquirer announces new palm-size version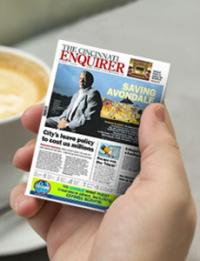 CINCINNATI, OH - Seeking to strengthen it's position on the leading edge of new media, The Cincinnati Enquirer has announced plans for a new palm size version of it's daily newspaper. The tiny print edition will be available on newsstands, in bookstores, and from diminutive vending machines soon.

"Finally, we are ready to give the newspaper reading public what they want," said Margaret Buchanan, President and Publisher of Enquirer Media. "All the news in a beautiful package that is approximately the size of a deck of cards. In fact, every Sunday we will print the image of a different playing card on the back page, so as a bonus you'll have a full deck in just 52 weeks."

The decision was made to revamp the paper after years of declining sales. "I'm very excited about this," said Enquirer delivery driver Ronald Hedges. "I'm not sure it will lead to more sales, but it's going to make my life a lot easier. I can carry enough papers to fulfill my entire route all in my back pocket. I might even start riding a bike to deliver them now. I can put the extra ones in the spokes of my tires."

Not everyone considers the downsizing of the paper to be a smart move. "Obviously, the world of print journalism needs to change," said media analyst Dr. Kevin Oxen. "However, I'm not sure this is the way to go about it. One of the few markets that still buy newspapers are the elderly, and they tend to not have good enough eyesight to read the headlines on these tiny papers. They're gonna need a full blown microscope to do the 'Jumble.'"

Enquirer executves say that the decision was made after careful research. They found that making the paper smaller made it more appealing to young people who associate objects of that size with other appealing products they use daily including cell phones, video game controllers, and cigarette rolling papers.