our breathtaking newsletter
Weekly gloriousness sent to your inbox.
Wednesday, April 25th - 6:30 PM-8:30 PM

DERF Happy Hour
Keep checking back here to find out where the next DERF Happy Hour will be!
Greenpeace invoices P&G for decorative flair costs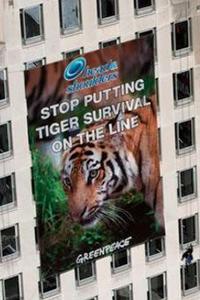 CINCINNATI, OH - After pulling off an elaborate plan in which they covered Proctor and Gamble's corporate headquarters with banners, Greenpeace has sent a bill to P&G. Greenpeace is seeking compensation for the time and costs involved in adding a decorative flair to the towers.

"Like any artists, we expect to be paid," said Greenpeace vice-president of publicity stunt affairs David Stock. "A great deal of thought and planning went into making those little towers look fabulous for a couple hours on a lazy afternoon. I'd also like to point out our commitment to leaving a small carbon footprint by saying that the banners were made out of almost 30% recycled materials."

Local decorator Blaine Woodruff feels that P&G should ignore the bill. "The color scheme was simply abhorrent," he explained. "Tiger stripes and the rest of the muted tones against the majestic concrete just looked so 1997. It was almost as ghastly as the footwear and hairstyles of the people who hung it up."

Executives at P&G have not made a statement on whether they plan to pay the decoration costs. "We will take a look at the invoice and make a recommendation," said P&G vice president of organized protest response communication Wayne Purcer. "I will say that the company as a whole wishes that if these people had at least washed the windows and maybe touched up a little paint while taking the time to decorate the building. We also would like to make sure that the messages on these banners do not, in any way, make our customers feel bad. P&G has a long history of doing our best not to bring shame upon dandruff sufferers."