our breathtaking newsletter
Weekly gloriousness sent to your inbox.
Sunday, April 22nd - 11:00 PM-5:00 PM

DERF Happy Hour
Keep checking back here to find out where the next DERF Happy Hour will be!
Engineers plan Central Parkway Ironic Beard Lane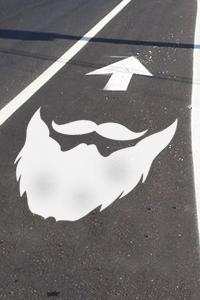 CINCINNATI, OH - As city planners debate the merits of a bike lane for Central Parkway, city engineers are busy planning adjacent lanes. Engineers believe that the city would be well served by having a dedicated 'ironic beard lane' located next to the bike lane.

"We think this fits perfectly with our vision of the city core," said Caleb Sandman, associate director of strategic growth at Urban Cincinnati United Vision Quest. "We are a city that is looking to be unique. We want visitors to come to Cincinnati and see a place like they have never seen before. Unless, of course, they've already been to Portland. In which case, we hope they'll think we're just ike Portland, except with crappier weather, dirtier air and grumpier citizens."

The idea for an ironic beard lane was first put forth by Over the Rhine resident Nathan Scherberg. "I like the idea of a bike lane a lot," explained Nathan. "But, being a typical app-designing hipster who eats epic plates and drinks lots of craft beer, I'm a bit too portly for bike riding. Also typical of my kind, I don't like anything to happen if it does not involve me. So I thought, even if me and my husky pals don't do a lot of bike riding, we sure do a lot of ironic beard growing. I pitched the idea at our last tweet up and the rest is history."

The proposed traffic pattern would allow cars on Central Parkway as well. There would be one lane provided for vehicular traffic, alternating directions every hour. "We think this will work out great for business traffic and commuters," said Sandman. "As a bicyclist myself, I know how much people enjoy looking at me. That's why I always dress up in flashy neon spandex and an aerodynamic helmet as if I'm riding in the French Alps when in fact I'm just biking a few blocks to the library. And my bearded brothers also know how much people enjoy looking at their ability to grow facial hair. The motorists will be crawling along or at a full stop so often they'll be able to get nice long looks at all of us."

If the plan is accepted and implemented, stage two of the operation will be up for review. That's when a name change will take place turning Central Parkway to "Hey! Get a Load of Me Parkway."