our breathtaking newsletter
Weekly gloriousness sent to your inbox.
Saturday, September 21st - 8:00 AM-10:00 AM

DERF Happy Hour
Keep checking back here to find out where the next DERF Happy Hour will be!
Cincinnati media advises potential rioters on best tactics for coverage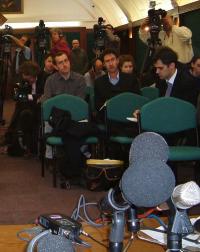 CINCINNATI, OH - With the threat of civil unrest following the shooting of a citizen by a UC police officer hanging over Cincinnati, members of the media have begun to take action. Local television news stations and other media have reached out to the community, advising potential rioters on the best tactics for mutual beneficial coverage of any and all riots.

"Here at Channel 12, we believe in the team approach," said WKRC-12 social media director Denise Drake. "We've been busy stirring up the racial hatred on our Facebook page. This tension came just in time too. All of the name calling and caps lock screaming about Caitlyn Jenner was starting to die down. And the Confederate flag screechers and Pete Rose fans almost started to realize that they've been posting the same comments for years and were almost bored with it. Then, thank goodness, here comes this story straight from heaven. I look forward to coordinating seamless integration of our social media strategy with our news coverage to make this one heck of a fun riot for us to cover and for our viewers to enjoy."

Channel 9 staffers have been busy reaching out to the community. "We have bodies on the ground, in the neighborhoods," said managing director of crisis coverage Benjamin Johnson. "Luckily, the crappy weather we've had lately has put almost everyone in this city in a pretty continual bad mood. Our producers and directors are down there lending a kind ear and a helping hand to people who we have identified as potential rioters. We want them to look their best on camera, so hair and makeup teams will be made available, as long as they are sure to call us first to give us exclusive first look coverage of their riot activity. There will also be a small clothing allowance for the more prominently featured rioters, but not too much. We find that shirtless rioters test better with our key demographics."

At Channel 5, reporters are taking a more hands-off approach to potential riots. "We want to focus on getting really great information out there," said news staffer Andrea Eiler. "Sure, we may have some interns who will be in the news vans when we go out to cover this story. And sure, they may be in charge of putting some nice sized rocks next to plate glass windows when they do. Just rest assured that News 5 is going to be right on top of this story in every way. Sheree Paolello and Mike Dardis have been practicing their looks of authoritative concern. And we've reached out to the community with some tips on how to look your best on camera by seeking out the very best lighting for video while you're in the midst of a riot."

Other forms of media have also reached out to rioters. "We will have special phone lines installed," said WLW radio general manager Richard Fredrick. "Potential rioters have been given special numbers to call while they're rioting so we can get them on the air immediately. Well, not immediately. We still need to keep doing what we do best: playing 35 minutes of commercials and 15 minutes of prerecorded traffic and weather every hour. But, trust me, the rest of our content is gonna be fantastic."
The Cincinnati Enquirer has also made preparations for a riot. "We hope it doesn't happen, but we're prepared," said Enquirer news director James Bishop. "We moved the two newspaper box stands we have downtown up to Hyde Park for a while. Preparation is key. As far as covering the story, I'm not sure how that will go. Most of our readers complain that bad news and violence upsets their digestion, causing them to miss 4:30 meal time at the home. Luckily, our print is now so small the old dears can barely see it. We'll probably just run some press releases from the police department and maybe rerun whatever USA Today covers."

At Channel 19, the news staff has been advising potential rioters on a daily basis. "Our team of producers are the best," said FOX-19 anchor Trisha Macke. "I know that they have been working around the clock to help us achieve our main goal, which is to keep the riots from happening. Until November. That's when sweeps starts. However, whenever the riots happen we will provide great coverage. Terrific graphics, fun promos, reactions from Jeff Ruby, and reporters out on the streets. I'll be at the news desk and not out on the streets, of course. Because, you know, orange lives matter."