our breathtaking newsletter
Weekly gloriousness sent to your inbox.
Sunday, May 27th - 1:00 PM-1:00 PM

DERF Happy Hour
Keep checking back here to find out where the next DERF Happy Hour will be!
City of Cincinnati scraps streetcar plan in favor of Ark construction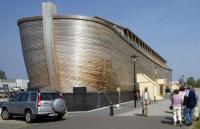 CINCINNATI, OH - As record rainfall continues in Cincinnati, city officials are scrambling to reallocate federal funds that were to be used for construction of a streetcar. The funds will be used to buld an ark.

The plan to use federal money for a streetcar had come under fire by conservative anti-tax groups. These same groups are generally supportive of the ark building plan. "As long as there is no future burden on the taxpayers," said anti-public transportation lobbyist Chris Flannery. "Saving our civilization from the destruction of an angry God via an ark may be a good use of this federal transportation money. Of course, we're also going to have to insist that no union labor be used to build it. Other than that, let's start lining up two by two."

Some members of council have proposed that instead of building an ark, the city should wait until 2014, and then lease the ark being built by the Creation Museum in Northern Kentucky. "Leasing the Kentucky ark would be a huge savings," said Councilman Chris Bortz. "It will probably take that long for us to figure out what a 'cubit' is anyway." Councilman Leslie Ghiz has stated that she hates the plan so much that she does not plan to read it. She went on to say that she loves the police, that her ankles are swollen, and that she would like to punch Laketa Cole in the face.

If the ark is built, it would then be used to house two of every kind of beast in Cincinnati, until the torrential rains come to an end. Passengers are expected to include two students from every Catholic high school, two organizers of every church festival, two chubby westsiders with cop mustaches, two snotty Cincinnati Country Day alumni, two slutty UC students, two ugly virgins from Xavier, two Hyde Park yuppies, two drunks from Mt. Lookout, two citizens from Over The Rhine including one hipster urban pioneer and one homicidal thug, and one pair of Pete Rose's children who will be responsible for repopulating the city once the rain has subsided.
Related Stories