our breathtaking newsletter
Weekly gloriousness sent to your inbox.
Saturday, June 23rd - 7:30 AM-12:00 AM

DERF Happy Hour
Keep checking back here to find out where the next DERF Happy Hour will be!
Streetcar tracks on sale at City of Cincinnati Black Friday sale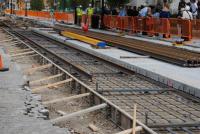 CINCINNATI, OH - The City of Cincinnati Black Friday sale is expected to get a great deal of attention this year. The sale will feature unprecedented low prices on many city owned items, especially streetcar tracks.

An advertising flyer obtained in advance of the sale announced the new low prices. "We're not gonna use them," said Mayor-elect John Cranley. "So we might as well try to get something out of them. If they don't sell, I, of course, will personally rip them out of the concrete myself."

The streetcar tracks will sell for $20, significantly lower than what was paid for them. The price will be reduced to only $10 during the hours of 6 am to 8 am, when the city will be offering special doorbuster savings. "Our goal is to sell four or five an hour," explained Cranley. "That should bring us within a few thousand dollars of breaking even, considering there will be several dozen city employees working the sale who are making $58 dollars an hour. But remember, I'm not in this to make money...I just looooove selling streetcar tracks! I'm thinking of giving up this mayor thing and just opening up a store called Cranley's Bargain Barn."

Other bargains available at the City of Cincinnati Black Friday sale include some wigs left behind by outgoing mayor Mark Mallory, and rare, antique parking meters that accept coins instead of $100 bills.