our breathtaking newsletter
Weekly gloriousness sent to your inbox.
Wednesday, April 8th - 9:00 AM-7:00 PM

DERF Happy Hour
Keep checking back here to find out where the next DERF Happy Hour will be!
Faulty Boeing 787s retrofitted for Cincinnati Streetcar duty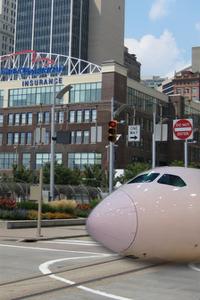 CINCINNATI, OH - Boeing 787 aircraft have been taken from fleets after problems were discovered. The faulty 787's will not go unused, however, as they are now being retrofitted to run as streetcars in the Cincinnati public transit system.

"This is a thrilling moment for Cincinnati," said Mayor Mark Mallory. "For decades to come, citizens will look back on this day as the momentous occasion when we made the bold move to deploy 787's throughout the streets of downtown and Over the Rhine. And, surprisingly enough, we're not doing it just to scare homeless people. Which, actually isn't a bad idea in and of itself."

The 787's will be retrofitted with smaller wheels that fit into the streetcar tracks. Other minor changes will also be made. These changes include the removal of all tray tables, removal of the emergency oxygen system, and scotch guarding the seats to prevent damage and disease. "We don't think we'll need to do too much else," said city engineer Josh Heath. "There are going to be some problems with the enormous wings, I suppose. But, the area will just have to learn to change and adapt. If we clip a few pedestrians or buildings, we'll make sure to provide the victims with some dry roasted peanuts and tiny pillows as a show of good faith."

In response to the plan, Duke Energy has announced that they will be raising utility rates on all customers in Ohio, Kentucky, Indiana and certain counties in North Carolina.