our breathtaking newsletter
Weekly gloriousness sent to your inbox.
Saturday, May 26th - 1:00 PM-1:00 PM

DERF Happy Hour
Keep checking back here to find out where the next DERF Happy Hour will be!
Our 2013 Guide to UDF-Based Christmas Shopping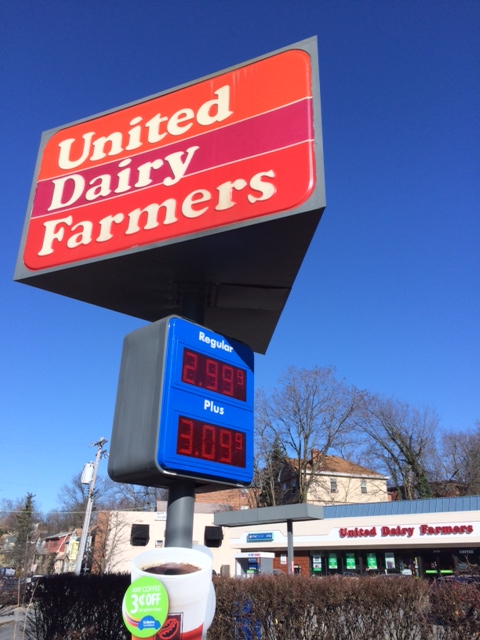 CINCINNATI, OH - As the number of shopping days until Christmas counts down, gift buying options seem limited. But you will experience a new world of possibilities in our Annual Guide to UDF Based Chistmas Shopping.

BEVERAGES
By giving someone on your Christmas list a beverage from UDF, you're not just surprising them with a delicious treat, you're also giving them the gift of health. Not only are UDF drinks delicious, they are also made up mostly of water...an element that has been scientifically proven to help people live. There are many to choose from, but check out the UDF brand water, which is harvested from a secret, secure freshwater stream deep below the Great American Insurance building.

MAGAZINES
The magazine section at UDF is your opportunity to give that special someone the world. In addition to the puzzle books and search-a-word games, the wide variety of magazines surely contain something of interest for everyone on your list. If you really want to save money, instead of buying the magazine, simply wrap one of the subscription cards, which UDF is happy to allow you to take home for free.

ICE CREAM
The ice cream at UDF is consistently rated one of the top six ice creams in the greater Cincinnati area. Pick up and wrap a gallon, a pint, or, if you're on a budget, ask for a free sample at the counter just before heading off to your gift exchange.

ROTATING HOTDOGS
Not only are UDF hotdogs a thoughtful gift, they're also affordable. They offer a variety of sausage and sausage like products from boneless to semi-boneless to deep fried breakfast things. But don't forget to add a little creativity to your present. Take a cell phone video of the hotdogs rolling back and forth on the roller and burn the video as a DVD loop. Footage of the rolling UDF hotdogs has been shown to be a soothing remedy for anxiety and depression.

AUTOMOTIVE SUPPLIES
A cornucopia of fine gifts line the automotive section at UDF. If you feel like spending a good hunk of change, there is top shelf engine oil for sale as well as transmission, brake and washer fluids. A fine selection of air fresheners are always available, many are so fancy that they need not be limited to decorating a car. They work just as well in the home or office. And for those on a budget, think about asking for a free paper oil cone, which you can then take home and decorate in festive colors.