our breathtaking newsletter
Weekly gloriousness sent to your inbox.
Friday, October 18th - 7:00 PM-2:00 AM

DERF Happy Hour
Keep checking back here to find out where the next DERF Happy Hour will be!
WEBN fires Frog mascot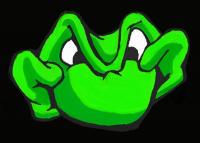 CINCINNATI, OH - More changes are in sight at WEBN as parent company Clear Channel has announced that after decades of service, the WEBN Frog has been fired. The company severed ties with the Frog after a heated morning meeting that resulted in the Frog being escorted from the Kenwood studios.

"They're a bunch of corporate suckwads who could not care less about real people or real rock and roll," said the Frog in a statement to the media. "Of course, they've been like that for a few decades now, but now that they've fired me it has become more apparent than ever. I'm only glad that Jay Gilbert is not alive to see this."

The move comes shortly after firing long time employees Wildman Walker and Bob the Producer Berry as well as parting ways with the Dawn Patrol host Dave Fritz. WEBN will now be staffed by broadcasting students from Lakota High School, a few former interns who are being paid in Arby's coupons, and any other people they find in the area who can listen to hour after hour of Nickelback without shooting themselves in the face. The company has announced that the annual WEBN labor day fireworks will now be hosted by a San Diego based DJ who will address the crowd via a satellite connection in his home.

WEBN spokesman Theodore Kendrick was adamant that firing the Frog was purely a business decision. "This was a unique situation," explained Kendrick. "The Frog was not fired because he was too old like Bob, or because he was mentally handicapped like Wildman. And he certainly was not fired for having a debilitating disease like Fritz. No, the Frog was fired for just kinda being creepy. Which, I think, might actually be legal."

The Frog has no immediate plans and is uncertain of his future job prospects. "I'm not sure where else I am fit to work." said the Frog. "I don't think I'll be able to find another job that pays so well in base salary, not to mention all of the side money I would make for endorsements, appearances, and selling clean urine to my fellow employees on Clear Channel drug test day."