our breathtaking newsletter
Weekly gloriousness sent to your inbox.
Thursday, April 26th - 6:00 PM-8:30 PM

DERF Happy Hour
Keep checking back here to find out where the next DERF Happy Hour will be!
CVG expands service to Lunken Airport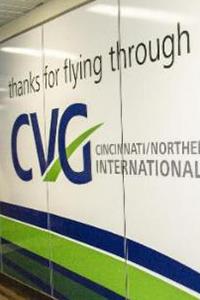 CINCINNATI, OH - The Greater Cincinnati Airport Board has been seeking all available means to make CVG a convenient, viable airport. Today the board says that they have moved another step closer to that goal, announcing expanded service to Cincinnati's Lunken airport.

"CVG is destined to become the international aeronautic presence it once was," said Airport Board spokesman Kevin Shearer. "With expanded service to Lunken, we are on our way. Our only concern is that passengers who are used to flying out of CVG may take some time to adjust to the fast-paced, hustle and bustle when arriving at a bigger airport like Lunken, but we are sure they eventually will."

Travel experts say the expanded service to Lunken will prove to be popular with a large segment of the flying public. "The possibilities are almost endless," said travel agent Beth Sommers. "There is, of course, the most obvious type of traveler we will encounter on this route. People from Florence who are looking to have an exotic vacation in Mt. Washington."

With such destinations as Noblesville, Indiana, Dandridge, Arkansas, and Morristown, New Jersey available from Lunken airport, board members say that more traffic than ever will begin to originate from CVG. "The world is your oyster now, Tri-state," said Shearer. "We can now easily fly you to an airport which can fly you to another airport which will be able to fly you to another airport which will allow you to fly to most anywhere in the world. Welcome to the 20th century!"