our breathtaking newsletter
Weekly gloriousness sent to your inbox.
Wednesday, April 25th - 6:30 PM-8:30 PM

DERF Happy Hour
Keep checking back here to find out where the next DERF Happy Hour will be!
CVG flights less frequent than Hebron drone traffic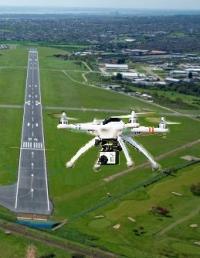 HEBRON, KY - Despite adding some low cost carriers, overall flight volume from the Greater Cincinnati International Airport is at historic lows. The lack of flights has now become so infrequent that the skies over CVG are now more likely to be filled by drones flown by residents of Hebron.

"My wife and I sat on the porch and could not believe it," said local resident Rory Graves. "It had been years since we'd sat on the back porch and watched that much air traffic going by. We thought maybe Delta brought their hub back here or something. Then we come to find out it's just people in town flying their little toy plane drone things or whatever they're called. I guess it's good news though. We still get to watch stuff flying around, but we don't have to worry about them emptying their toilets on us like they used to."

"At first we worried they would be a problem," said CVG spokesman Carl Moore. "But we don't have enough flights coming and going from the airport that they are getting in anyone's way. We see it as a big plus. It's like a crowded restaurant. Maybe if more airlines see all the activity here, they'll think it must be popular and they'll want to come too."

However, local aviation experts aren't sure that the mix of drones and an actual airport are a good mix. "I'm sure these amateurs are having a good time," said aviation expert Jay Gray. "Flying their little drones around to keep an eye on their pot fields and meth labs. But they need to remember that aviation is best left to the professionals. Having said that, some of the drones actually do look like they would be a more comfortable and professional ride than you get on Allegiant."