our breathtaking newsletter
Weekly gloriousness sent to your inbox.
Sunday, March 1st - 12:00 PM-4:00 PM

DERF Happy Hour
Keep checking back here to find out where the next DERF Happy Hour will be!
Drunks vote on new Ohio DUI license plate designs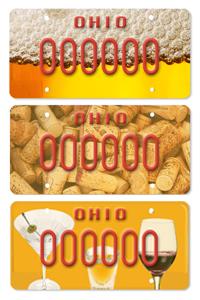 COLUMBUS, OH - Drunks across the Buckeye State will soon be weighing in with their opinion on a new design for Ohio's DUI license plates. The new DUI plates were ordered after many found the old ones to be too bland, and will be launched next year.

"Thank goodness they're doing something about those ugly license plates," said area irresponsible drunk Ralph Melbourne. "Can't think of a good reason why someone should have to put up with that kind of abusive government power. That old plate was so ugly, it almost made me consider walking home or taking a cab."

Ballots featuring several different DUI license plate designs have been distributed in bars and liquor stores throughout the state. Drunks are encouraged to pick from the preselected designs, and are also welcome to come up with designs of their own. "There has been a lot of interest," said liquor store owner Danny Mills. "My personal favorite is the plate that looks like it is covered in amber bubbles and beer foam. It's a real work of art."

Other proposed designs feature a silhouetted distillery, a plate that has a background of wine corks, and one that includes the word Ohio spelled out with miniature whiskey bottles. Another early favorite features a letters and numbers that appear to be drawn using the signature melted wax of a Maker's Mark bottle.

A new design that was submitted by Dayton drunk Carl Shearer has also been getting a lot of attention. "I got the idea from some other license plates I've seen," explained Carl. "So I just drew it up and sent it in." Carl's plate was drawn using crayons and features stick figure people with the caption, "Choose Booze."
Related Stories