our breathtaking newsletter
Weekly gloriousness sent to your inbox.
Monday, April 6th - 1:00 PM-1:00 PM

DERF Happy Hour
Keep checking back here to find out where the next DERF Happy Hour will be!
Escaped butterflies from Krohn Conservatory terrorize Mt. Adams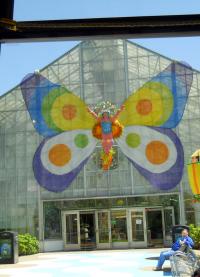 CINCINNATI, OH - The usually peaceful neighborhood of Mt. Adams has been chaotic in recent weeks. Escapees from the recent butterfly show at Krohn Conservatory have taken to the skies of Mt. Adams and are terrorizing visitors and residents on a daily basis.

"We were just trying to have a nice lunch on the deck," said Pavillion guest Molly Hart. "A couple of giant butterflies flew onto our table and took off with my plate of nachos. Then a few more came swooping in, got right in my face and flew away with my cosmo."

Local wildlife officials believe that the butterflies have bred and mutated since their escape. They are now very aggressive, and have an insatiable desire for alcohol. Crowley's bartender Robert Stocker was surprised by a swarm of butterflies upon opening the bar. "They had just made their way through the top shelf liquor," explained Mr. Stocker. "And they were swarming around the well whiskey when I started throwing bar towels at them. They were belching, drunk, and reeked of alcohol, I've never seen anything like it. Well, except here on St. Patrick's day. Or last Friday. Or most Tuesdays."

The swarm has terrorized residents of Mt. Adams as well. Mary Whitachre was left stranded on the balcony of her condo when the butterflies flew into her home and locked the door behind her. In addition, the butterflies have annoyed residents by swarming in any empty spots on the streets, thus taking up valuable parking spaces.

On the good side, the chaos created by the escaped butterflies has prompted officials at Krohn conservatory to cancel cancel next year's show. The news comes as a thrill to ninety percent of the tristate's male population.