our breathtaking newsletter
Weekly gloriousness sent to your inbox.
Monday, April 6th - 1:00 PM-1:00 PM

DERF Happy Hour
Keep checking back here to find out where the next DERF Happy Hour will be!
Florence Mall Santa disfigured in meth lab explosion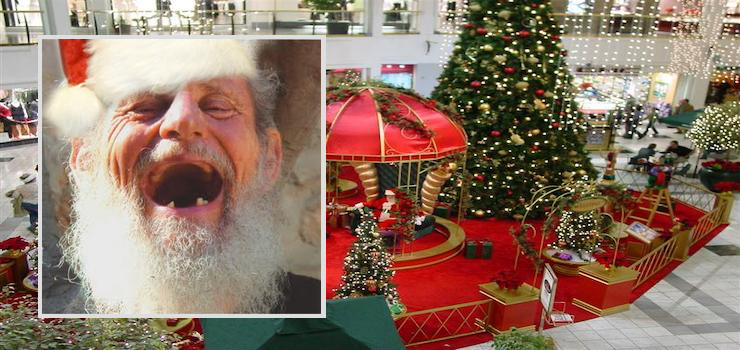 FLORENCE, KY – The man who filled the role of Santa Clause at the Florence Mall was injured this week inside Santa's Castle due to an explosion in the meth lab he was operating. Florence residents have known thirty-seven year old Jimmy Don Sherman as Santa for over ten years.
Mall officials say several of Santa's elves who are suspected meth users were also injured in the explosion. The food court was closed for hours while crews removed elf appendages from several stores after the explosion.
Police say the investigation uncovered a vast network of meth production and distribution including detailed understanding of how Santa's elves regularly stole ingredients for the meth lab from drugstores in the mall vicinity.
Devastated Florence Mall holiday shoppers say they recognized the familiar cooking odor of the meth lab within the mall but assumed it came from the numerous other meth labs in the community. "Meth labs around here is common. I drive by three just to get to my trailer." said Independence resident, Regina Carmichael.
Reportedly Sherman has coped with a meth addition his entire adult life. Sherman's manager at the mall said the signs of Sherman's meth use were increasing every year. Losing most of his teeth in his mid-thirties gave him the appearance of a man several decades older. Also, police responded to several reports of Sherman allegedly stealing money from children's pockets while they sat on his lap.
Via his Twitter page (Twitter.com/KentuckySanta), Jimmy Don Sherman apologized to his friends and family saying, "It was wrong I disrespected Santa's Castle like that. This three weeks as Santa every year is my only job. I'm sorry for all them kids who had to find out Santa's a junkie."
Reportedly Sherman also apologized to the employees who worked at the Rosetta Stone kiosk and were injured by shrapnel from the blast. Rosetta Stone employee David Holcomb said he was helping Sherman learn Mandarin Chinese during his breaks from work.
While crews work around the clock to rebuild the destroyed facility, mall security guards are taking shifts as Santa using the Victoria's Secret store as a temporary Santa's Castle.
During Jimmie Don Sherman's hospital stay, his children are under the care of his cousin Earlene Rae Sherman who is also the mother of several of them.