our breathtaking newsletter
Weekly gloriousness sent to your inbox.
Saturday, October 26th - 12:00 PM-5:00 PM

DERF Happy Hour
Keep checking back here to find out where the next DERF Happy Hour will be!
Marlboro to introduce Think Pink Breast Cancer Awareness packaging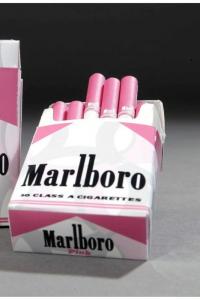 NEW YORK, NY - Joining similarly colored products on store shelves, RJ Reynolds announced this week that Marlboro cigarettes will appear in "Think Pink" packaging as part of an effort to boost breast cancer awareness. RJR has also pledged to donate an unspecified amount of money from each pack sold to an unspecified charity which may or may not be somehow related to something having to do with breast cancer.

"I think this shows Marlboro's support of breast cancer awareness," said company spokesman Nathan Stone. "As product after product has shown, there is no greater service a company can provide this movement than to put their products in pink packages. We actually made the cigarettes pink too even though there is a chance the chemicals in the dye might be harmful to smokers. That's how committed we are to this cause."

Other cigarette brands are considering similar packaging. "We are seeking government approval to bring back Joe Camel," said Camel Brand Manager Vincent Lewis. "This time, he will have a girlfriend named Josephine Camel, and she will wear a pink t-shirt, with a pink ribbon on it indicating that she supports breast cancer research, breast cancer awareness, and breast cancer product placement. If the FTC turns us down, it is obvious that they hate women."

When asked if there were concerns about their product having a link to a cancer organization, spokesman Stone said, "I have heard that there has been some research done that indicates smoking may cause cancer. However, there is even more research that shows people believe that buying things in pink packages stops cancer. So it is really about who you want to believe."