our breathtaking newsletter
Weekly gloriousness sent to your inbox.
Thursday, April 2nd - 6:00 PM-8:30 PM

DERF Happy Hour
Keep checking back here to find out where the next DERF Happy Hour will be!
Mouse with human ear grafted to body seeks second opinion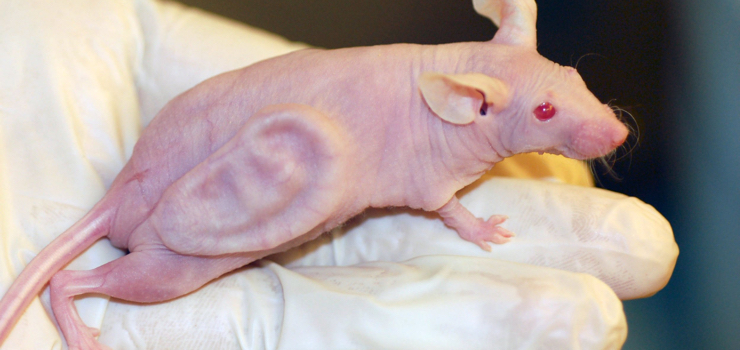 CAMBRIDGE, MASSACHUSETTS - Over two decades ago a lab mouse at Harvard Medical School played a breakthrough role in human organ growth research by allowing Harvard surgeons to implant a human ear onto its back. The mouse has lived a comfortable life since the procedure but lab workers who interact with the mouse say it appears the mouse may be having second thoughts.
Workers in the lab say the mouse is likely seeking a second opinion after being impressed while observing the younger lab mice receiving more advanced, cutting edge procedures.
"Sometimes a more accomplished test subject can become a diva," said Dr. Charles (Joseph) Vacanti, the Harvard Surgeon who innovated this breakthrough in human/mouse ear implants. "When they begin making demands like this, we do our best to appease them but in this case, there is no other doctor in the world qualified to consult with this mouse. So we've asked our bartender friend, Kayla Reed at our favorite pub, Grendel's Den, to don a white lab coat and play the part of a University of Michigan visiting doctor. A lab coat is all it should take for Kayla to be convincing as a U of M doctor."
Dr. Vacanti explains thanks to technology improvements, an endless array of upgrade possibilities can be offered to the mouse. One obvious improvement would be the addition of a companion ear which offers a comforting symmetry.
Lab technicians in Dr. Vacanti's lab say newer technology has enabled many of the younger lab mice to receive more expressive implants. For instance, one nearby mouse in the same lab was successfully given a pair of working butterfly wings. Another mouse's entire body was implanted with a wonderful array of flowering perennial flowers which lighten the serious tone of the lab every spring. Possibly seeing these exotic implants has influenced the lab mouse's decision to seek a second opinion.
Others watching from around the world say the most suitable option is to remove the human ear and proudly retire it on a lab wall for generations of lab mice to admire.
What a fitting tribute to the lab mouse who literally carried the weight of this groundbreaking research on his back.