our breathtaking newsletter
Weekly gloriousness sent to your inbox.
Thursday, July 11th - 3:00 PM-9:30 PM

DERF Happy Hour
Keep checking back here to find out where the next DERF Happy Hour will be!
Newport to use green energy from local meth labs to power Ferris Wheel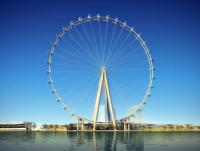 NEWPORT, KY - As Newport on the Levee looks into the idea of building a large Ferris wheel attraction, the city of Newport has weighed in with a plan they hope will help the developers. The city has proposed powering the ferris wheel in an economic and green manner by using energy from area meth labs.

"Those meth labs put out a lot of gas and whatnot," said Newport city official Kevin Goulding. "I don't have any first hand experience, of course, but two thirds of my cousins do, and I'm pretty sure my kids have dabbled in the backyard. Anyway, why not put all of that power to use by harnessing it to power a fun attraction. And, if this plan works, we would be on the cutting edge of meth lab power conversion, an idea that could revitalize this entire state. We may have enough meth power to provide electricity to most of the eastern United States."

"I see lots of good things about this," said area meth producer Andy Watson. "Us meth producers, for some reason, we seem to get a lot of bad press. A big fun Ferris wheel would finally associate something good with the proud occupation of meth lab owner. Plus, it's gonna be lots of fun for my clients. Meth heads love thrill rides. For a lot of them, that just means the thrilling ride driving around while they're high as a kite, but I can see a Ferris wheel being fun for them too."

Despite the promise of running the wheel via green energy, there is still some opposition to the project. "First of all, I'm quite sure it will be an eyesore," said local resident Betty Perry. "And also, we will be the laughingstock of the nation. Everyone knows that the term "Newport Ferris Wheel" relates to a deviant sexual practice involving a flatulent girl doing cartwheels."