our breathtaking newsletter
Weekly gloriousness sent to your inbox.
Sunday, April 22nd - 11:00 PM-5:00 PM

DERF Happy Hour
Keep checking back here to find out where the next DERF Happy Hour will be!
Nyquil introduces Cold & Ebola formula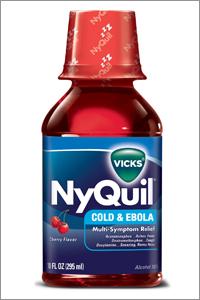 CINCINNATI, OH - In wake of current news reports of an increased number of cases of the Ebola virus, Procter and Gamble has announced what they hope to be a product to ease the disease's symptoms. Nyquil's new "Cold and Ebola Relief" formula is set to arrive on store shelves in the coming days.

"Relief is on the way, America!" announced Nyquil brand manager of international infectious disease Michael Lark. "We know that there is a bit of a scare lately, what with all of this Ebola news. You can put your fears to rest, however, as Nyquil Cold and Ebola Relief has been scientifically shown to help Ebola sufferers ease their symptoms and get a good night's rest. And, by 'scientifically shown,' I mean as much as the FDA requires nowadays. Which is not at all. Unfortunately, we won't be able to sell it in sub-Saharan Africa where the governments have higher standards."

Ebola sufferers are expected to find relief from the special list of ingredients contained in Nyquil Cold and Ebola Relief. "Of course, we can't divulge the exact ingredients," explained Lark. "But let's just say we expect Ebola patients to be our third most popular consumer demographic behind closet alcoholics and home methamphetamine manufacturers. Yep, it's just that good!"

An advertising campaign will kick off simultaneously with the release of the product. The new brand of Nyquil will be advertised with the tag line, "The nighttime sniffling sneezing coughing aching stuffy head fever so your flesh doesn't eat you medicine."