our breathtaking newsletter
Weekly gloriousness sent to your inbox.
Friday, January 24th - 4:00 PM-9:30 PM

DERF Happy Hour
Keep checking back here to find out where the next DERF Happy Hour will be!
Pfizer rides Halloween wave with new Pumpkin Spice Preparation H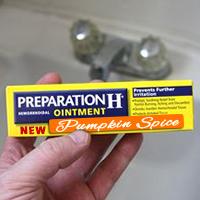 NEW YORK, NY - The highly anticipated yearly appearance of pumpkin spice lattes at Starbucks has arrived. Its popularity has begat many other drinks, snacks and scented candles featuring a similar flavor. Now, the craze has spread to the world of pharmaceuticals as Pfizer announces their new Pumpkin Spice Preparation H hemorrhoid cream.

"As soon as the calendar turns to September, it begins to happen," said Pfizer marketing spokesman Allison Twyman. "There is that scent of fall in the air. Soon we will all bask in the glory of brightly colored leaves, crisp sweater weather, and, of course, the pain and discomfort of hemorrhoids. Well, this fall, we are inviting our customers to celebrate the season my providing hemorrhoid relief with the deliciously intoxicating seasonal treat of Pumpkin Spice Preparation H."

"I thought it was a silly idea when I first heard about it," said Portland resident Aaron Wainscott. "But really, it just adds another layer to my favorite season. The other day on the bus I caught a whiff of that now famous pumpkin spice aroma and smiled. Though, then I thought, 'Does the lady across from me have a seasonal latte in her cup, or is the guy next to me sitting on a raging case of the piles?'"

Based on the popularity of the seasonal Pumpkin Spice Preparation H ointment, Pfizer is considering other flavors for the holiday season. "We're thinking gingerbread and peppermint might be good for Christmas," said Twyman. "And then maybe next summer we can try out a refreshing lemon shandy."