our breathtaking newsletter
Weekly gloriousness sent to your inbox.
Friday, December 13th - 5:00 PM-10:00 PM

DERF Happy Hour
Keep checking back here to find out where the next DERF Happy Hour will be!
Cincinnati Zoo sells Baby Giraffe naming rights to P&G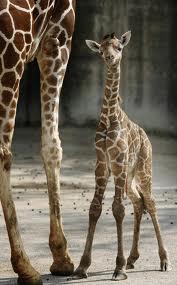 CINCINNATI, OH - The Cincinnati Zoo has announced that naming rights for the zoo's newborn baby giraffe have been sold to Procter & Gamble. The exact price paid for naming rights has not been disclosed, but is expected to be in the high six figures.

P&G has not selected the new name yet, but insiders expect the company to choose a name based on one of its many worldwide brands. " 'Head and Shoulders New Sensitive Scalp Formula' has a nice ring to it," said P&G assistant Vice President of animal name branding solutions Carmen Loring-Petrey. "We also like the names 'Pantene Volumizer with Revitalizing Micro-Beads', 'Febreze Fresh Safari Scent', and 'The New Six Blade Mach 3 Turbo Giraffe Presented by Gillette.'" Reportedly P&G was also fond of the name 'Pringles' until recently announcing the sale of that brand.

The move came as a surprise to many who thought that the baby giraffe's name would be chosen from suggestions made on the zoo's Facebook page. P&G quickly stepped in with a naming rights offer after they found many of the early suggestions to be objectionable. "There were some dreadful names being suggested," said P&G Associate Director of animal naming outreach Lydia Howard-Deering. "Saffron? Patches? This is a majestic animal, not a Clarence Carter song."

Reports from P&G suggest that one reason the company decided to become involved stems from their dislike of some recent names given to other animals at the zoo. "It was a bit of a slap in the face to hear they had named the new baby zebra 'Amway,' said an unnamed source. "Add him to Nestle the bear and Unilever the iguana, and it was obviously time for us to step in."

In addition to naming rights, Procter and Gamble has asked that any fur that grows atop the female giraffe's horns be shaved off, so that the horns may better resemble the P&G towers world headquarters.

Though P&G will make the final determination on the name, they have sought input from zoo employees. "I guess if it had been an albino, 'Ivory' would have been the natural choice," said zookeeper Bob McDonald. "Though from what I've been seeing while cleaning up the cage, I'm gonna have to suggest 'Olestra.'"