our breathtaking newsletter
Weekly gloriousness sent to your inbox.
Sunday, May 26th - 1:00 PM-1:00 PM

DERF Happy Hour
Keep checking back here to find out where the next DERF Happy Hour will be!
Jeff Ruby sells Waterfront restaurant to BB Riverboats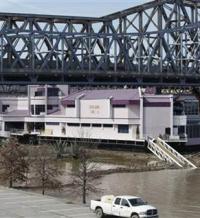 CINCINNATI, OH - After the excitement surrounding the Waterfront restaurants short voyage down the Ohio River, Jeff Ruby plans to sell the restaurant to BB Riverboats, joining their fleet of river cruising vessels.

The Waterfront will remain a restaurant with the added bonus of making short, unexpected cruises. Diners will not be alerted before the boat suddenly breaks free of the riverbank and cruises adrift down the river. "We think this is going to be an exciting new venue for adventure dining," said BB Riverboat manager Steven Miles. "It will be kind of like a mystery dinner theatre, except without the annoying actors."

Jeff Ruby will continue providing the food for the new restaurant, and is excited about the new concept. "You really can't beat this for entertainment," he said. "And, you really can't beat it for advertising purposes either. Every night when the restaurant starts floating away, we're going to have four or five hours of continual news coverage on all four local stations. I will be available for interviews day or night."

No renovations are planned to the Waterfront's interior, leading some to speculate on other parts of the runaway riverboat restaurant's themed adventure. "With the bright 1980's colors and light fixtures, it would be a great Miami Vice theme," said restaurant consultant Brian Watkins. "You could tell the diners that the boat had been set afloat by drug smugglers who were trying to foil Crocket and Tubbs."

"Who knows," Ruby went on to say. "Maybe the concept will catch on and other restaurants will start to copy the idea. One day you might have the drifting Waterfront get sideswiped by runaway Hooters."