our breathtaking newsletter
Weekly gloriousness sent to your inbox.
Sunday, January 26th - 11:00 AM-5:00 PM

DERF Happy Hour
Keep checking back here to find out where the next DERF Happy Hour will be!
Starbucks price hike includes fee for handwritten name on cup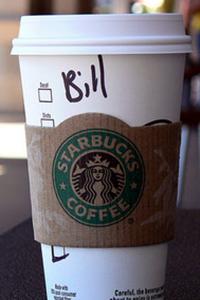 SEATTLE, WA - Mega coffee chain Starbucks has announced price increases for many drinks in their stores across the country. In addition to the per-beverage price hike, Starbucks locations will now add a ten cent surcharge for writing customer's names on their cups.

"We believe customers will be happy to pay the extra fee," said Starbucks spokesman Archie Ford. "Starbucks customers have grown used to the feeling of importance and fame that comes from seeing one's name scribbled on a paper cup. It's not the kind of thing that one gives up easily."

Starbucks executives have wrestled with the idea of a surcharge on beverage name writing for years. "It requires us to hire a certain level of employee," said human resources coordinator Julian Melbourne. "People who are not only able to write, but able to write using a marker on a perpendicular paper cup. They must also be able to spell well enough to jot out a somewhat acceptable spelling of the customers name. Often, they fail at one or more of these goals, but it is still a valuable service."

In addition to the basic cup writing charge, other fees may soon apply. Starbucks is considering charging extra for extra long names, names which are hyphenated, and names which contain extra letters which are not pronounced. There is also a proposal to begin charging customers an extra two dollars for ordering using the terms 'small' 'medium' and 'large', which company insiders say ruins their attempt at creating an authentic Italian atmosphere within the various strip malls where the stores are located.