our breathtaking newsletter
Weekly gloriousness sent to your inbox.
Friday, January 24th - 4:00 PM-9:30 PM

DERF Happy Hour
Keep checking back here to find out where the next DERF Happy Hour will be!
New Jesus statue stuck in Wapakoneta McDonald's drive thru en route to Monroe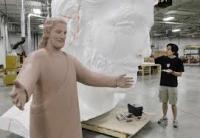 WAPAKONETA, OH - While being hauled to its new home at the Solid Rock Church in Monroe, the 50 foot tall statue of Jesus was trapped as it was being driven through a McDonalds drive-thru. One outstretched arm of the statue caught on a statue of Ronald McDonald causing it to shift, stand semi-upright and lodge between a drive thru window and a McDonaldland Playland.

"It was the loudest, craziest, most disturbing thing I have ever seen," said McDonald's employee Darren Bick. "One minute I'm typing an order into the computer, the next minute there is a thunderous noise, the building shakes, and the face of Jesus is pressed staring at me through my drive thru window. I'm going to have nightmares. If I ever sleep again."

The driver of the truck had attempted to maneuver the vehicle through, despite turns that were obviously too tight and a warning sign indicating that he did not have enough clearance. "I know I should have just parked and gone inside," said driver Fred Holland. "But I truly thought I was going to make it. I don't know what it was. I think that I just had this feeling that, with him, all things are possible."

Local authorities said that extracting the enormous statue will be a very difficult task. "This is too big to just get out the jaws of life," said city contractor Raymond Moore. "And it is too delicate to just try to ram it through with a bulldozer. We may have to break it into nuggets. However, I am certain if we left him alone Jesus will ascend from this predicament in a few days."
Related Stories