our breathtaking newsletter
Weekly gloriousness sent to your inbox.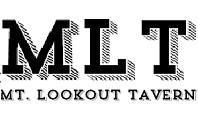 Friday, October 31st - 11:30 AM-11:00 PM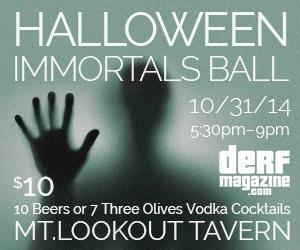 DERF Happy Hour
Friday, Oct 31 - 5:30PM-9:00PM
Toyota closure, new Godzilla movie strike fear in NKY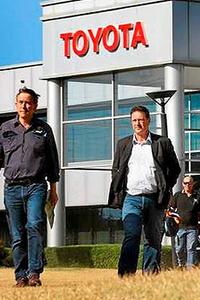 ERLANGER, KY - The closing of Northern Kentucky's Toyota plant will result in the loss of over 1500 jobs, and should have a serious impact on the local economy. Coupled with the soon to be released remake of the feature film Godzilla, citizens of Northern Kentucky have been overtaken by intense fear.

"I am not coming out of this house," said Erlanger resident Misty Robinson. "I am going to hunker down with my supply of canned goods and keep an eye on the news. There is no chance of me going out on the street. Well, unless Godzilla's giant foot is about to stomp down on my house. Then I guess I'd sneak out the side door."

Parents have taken their children out of school, believing that the family should be together in what may be the end times. "There's no sense in little Caleb going to school right now," said mother Alicia Sampson. "It's not like there is anything they can teach him at school that's gonna help now. The only job around for him to get would be at a carwash or fast food restaurant, and that's assuming we live through the invasion of that giant lizard. Too bad the school board wasn't smart enough to teach kids how to build robots that fight Godzillas."

The economy is, in fact, the root of much of the fear spreading in Northern Kentucky. Residents believe that both events will lead to harder economic times ahead. "Toyota closing up shop will at least take a while to complete," said resident Tyler Deen. "But when Godzilla takes four steps through the trailer park near my house, he will destroy all of the meth labs and all the local commerce that comes with it. We're screwed."