our breathtaking newsletter
Weekly gloriousness sent to your inbox.
Monday, May 27th - 1:00 PM-1:00 PM

DERF Happy Hour
Keep checking back here to find out where the next DERF Happy Hour will be!
Conversation with Uber driver most meaningful social contact of area manís life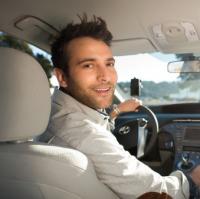 CINCINNATI, OH - Zach Polling of Mt. Lookout was only looking for a ride downtown on a Saturday night, but what he got was much more. Zach walked away from that ride with an experience that can be definitively called the most meaningful social contact of his life.

Zach was standing on Delta Avenue when Gary pulled up in his 2007 Toyota Prius, and almost immediately, the meaningful social interaction began. "He gave me a wave and the magic began," explained Zach. "Since it's not really a cab, I decided to sit in the front seat, a really bold move for me. I was truly putting myself out there. But, you've got to give a little to get a little. And in this case, I got a lot. We started talking about Mt. Lookout, and quickly changed subject to talk about traffic in Mt. Lookout. Then without any forcing or straining of the conversation we started talking about Columbia Parkway trafficl. I asked him to turn down the radio, because I didn't want to miss a word he said."

Uber driver "Gary," which may or may not be his real name, found the ride to be pleasant, but it did not have the same impact on him that it did for Zach. "Well, I've got a wife, kids, and dozens of friends who visit on a weekly basis," he explained. "So it didn't hit as high on the meaningful meter for me. It was still a great ride though. Mostly because he didn't throw up in my car like those UC kids always do."

"I never knew my father," said a tearful Zach. "Growing up, I remember I would watch my friends play catch or go fishing with their dads. I always wondered what it would feel like. Well, after the twenty minute conversation with Gary, my Uber driver, I think I have a pretty good idea. After almost thirty years on this planet, I finally understand what it is like to not feel alone."

Zach further hopes that the Uber ride will lead to more and more social interaction. "It's all pretty new to me, but I can see getting into it," he said. "The conversing about various topics. The sitting next to someone. The handshake and farewell. I think by this time next year I might be ready to start looking people in the eye or maybe approaching girls. II would certainly help if everyone I encountered had a great smelling air freshener like Gary did.