our breathtaking newsletter
Weekly gloriousness sent to your inbox.
Thursday, April 2nd - 6:00 PM-8:30 PM

DERF Happy Hour
Keep checking back here to find out where the next DERF Happy Hour will be!
WKRC Local 12 wins Regional Emmy for excellence in scrolling school closings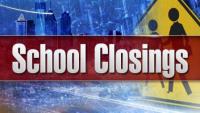 CINCINNATI, OH - The staff of WKRC Local 12 has brought home another honor to one of Cincinnati's most celebrated television newsrooms. WKRC has won the Regional Emmy for excellence in scrolling school closings.

"We are very proud to receive this honor," said WKRC assistant General Manager Shelby Fredrick. "It serves as a notice that the regional emmy committee understands that we are truly on your side. Whether it be investigative reports, keeping tabs on the regions tumultuous weather, or scrolling a list of schools that will be closed across the bottom of the television for hours and hours and hours, the Channel 12 News Team will always give nothing but the best to the viewing public. Especially with those school closings. We are really, really good at that."

WKRC News has long been the regions authority when it comes to announcing school closings. "We were the first local station to broadcast a school closing scroll in HD," said Fredrick, while beaming with pride. "And if you look into our history, you'll discover that we also came up with the idea of announcing the closings alphabetically. Before that, it was a free-for-all. We also offer school closings in Spanish on our 9.2 channel frequency, and we scroll the closings from left to right on 9.3 for people battling with dyslexia."

WKRC not only walked away with the award for excellence in scrolling school closings, they also took home weather related Regional Emmys for Great Moments in Shamelessly Unapologetic Incorrect Forecasting and the always coveted Excellence in Fear Mongering By a Male Meteorologist.