our breathtaking newsletter
Weekly gloriousness sent to your inbox.
Saturday, May 26th - 1:00 PM-1:00 PM

DERF Happy Hour
Keep checking back here to find out where the next DERF Happy Hour will be!
'Wxix' now most common last name in Cincinnati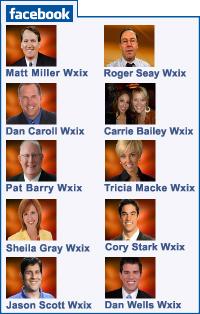 CINCINNATI, OH - According to geneology experts utilizing search results on Facebook, the family name "Wxix" is now the fastest growing last name in the Tri-State area.
The Wxix family appears to be large and diverse. A recent Facebook search of the family name retuned over 120 results. Judging by the thousands o weekly Facebook friend requests sent by people with the last name Wxix, the entire family seems to be very friendly.

"I can't believe how many Wxix family members have sent me a friend request. They must really want to get to know me." said Facebook user Natalie Overbeck.
The original Wxix immigrants came to America from western Europe, hoping to escape persecution from the Wcpo clan. The Wxix's were known for their noticeably tanned skin, kind eyes, and pleasant but somewhat simple personalities.
The Wxix's in the Tri-State make it a family tradition to be called by all three of their names, such as Pat Barry Wxix, Sheila Gray Wxix, Stefano DiPietrantonio Wxix, and Carrie Bailey Wxix. This can be traced back to a portion of the family who settled in the south, including Bobbi Jean Wxix, Ricky Joe Wxix and Billy Ray Wxix.

"It is great to have so many family members in town," said Dan Carroll Wxix. "Many people have trouble pronouncing the name, but just remember, it's spelled just like it sounds."