our breathtaking newsletter
Weekly gloriousness sent to your inbox.
Thursday, April 2nd - 6:00 PM-8:30 PM

DERF Happy Hour
Keep checking back here to find out where the next DERF Happy Hour will be!
New OTR grocery will feature locally sourced organic ammunition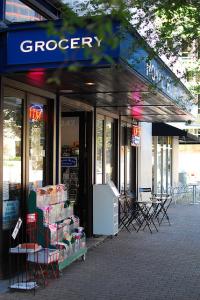 CINCINNATI, OH - Several plans to build a much needed grocery store in Over the Rhine are still being discussed by city leaders. The common theme with each plan is an extensive aisle that will fulfill the neighborhood's locally sourced organic ammunition needs.

"It's important for any grocer to take into account the needs of the community," said OTR retail planning administrator Gareth Twyman. "OTR is a unique neighborhood, and a neighborhood in which only freah and natural ammunition will do. Any retailer looking to move in here needs to understand and embrace that. Or else, someone may shoot them."

In addition to being well stocked in standard ammunition, the new grocery will cater to the OTR scene by also offering the latest in craft ammunition. "These are a fickle crowd of folks," said ammunition wholesaler David Moore. "We're going to make sure they get the hippest ammo available. Some of it is so hip, you've probably never heard of it. They're already getting requests for some ultra rare micro-ammo's from Belgium. Of course, we'll have the standard kevlar shredding classics too for those with a more pedestrian taste in ammo."

Other recommendations for the OTR grocery include a list of items that will be immediately popular for both the long time and newer residents of the neighborhood. These include home piercing equipment, knitted caps, skinny jeans, thick designer eyewear, summer scarves, and beard combs.