our breathtaking newsletter
Weekly gloriousness sent to your inbox.
Friday, October 18th - 7:00 PM-2:00 AM

DERF Happy Hour
Keep checking back here to find out where the next DERF Happy Hour will be!
Andy Rooney's family begs him to return to work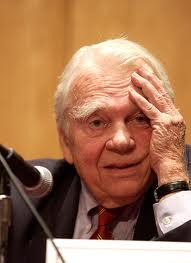 NEW YORK, NY - After several hours of retirement, Andy Rooney's family has had enough of him. They family gathered for a meeting in which they begged Andy to return to his job at 60 Minutes.

"Instead of a quick breakfast where he complains for ten minutes," explains his daughter Emily. "He has no where to go after breakfast, so he complains for at least two hours. Five hours if we're having toast. He really hates toast for some reason. I think it has something to do with the fact that it has to be made in a toaster, and he hates toasters more than just about anything else in the world."

Also growing tired of having Rooney around so much is his son-in-law Bryant, who has offered to find him a job. "I was thinking maybe he could feel useful doing something during the day," said Bryant. "I took him to Wal-Mart in hopes they would hire him as a greeter, but they said he was way too young and sweet tempered. Then I had to physically pull him out of the store because he was bothering complaining about every tool in the hardware department to anyone who walked by."

Family members have also suggested that Andy take on a hobby. They are hoping to find something that will occupy him for hours on end, thus keeping him from annoying everyone he comes in contact with. It has been suggested that he begin fashioning area rugs woven from his eyebrow hair.