our breathtaking newsletter
Weekly gloriousness sent to your inbox.
Friday, October 18th - 7:00 PM-2:00 AM

DERF Happy Hour
Keep checking back here to find out where the next DERF Happy Hour will be!
Jessica Simpson's baby born during eighteenth trimester of pregnancy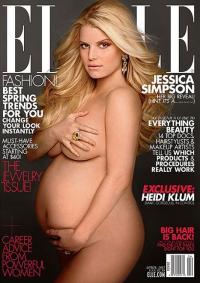 WEST HOLLYWOOD, CA - Mother and baby are resting comfortably at Cedars Sinai Medical Center, as Jessica Simpson has given birth to a baby girl. The birth came just as Jessica was in the middle of her eighteenth trimester of pregnancy.

Obstetrician Dr. Malcom Bishop said, "This delivery was the most gruesome four hours of my life. I've been to natural disaster scenes that were prettier than this birth."

SImpson's much publicized pregnancy gripped the nation for what seems like a decade. Her television appearances chronicled every aspect of the pregnancy, specifically the aspects that involved her bodily functions and constantly sweaty undercarriage. "Well we'll certainly miss having a pregnant Jessica on the show," said afternoon talk show host Rachael Ray. "They were our highest rated shows for each of the six sweeps periods we had her on. Though, our props department is glad she won't be back. The set furniture was really starting to suffer."

Medical experts are still baffled by the pregnancy. "This will be studied in medical schools for years to come," said Harvard Medical professor Dr. Henry Willhelm. "And it won't just be studied by OB-GYN's. There are paleontologists who think it could be helpful in their studies, because Jessica Simpson has the same gestation period as the woolly mammoth.
Jessica was pregnant so long that sources close to Simpson's former husband Nick Lachey say the entertainer believes the baby is possibly his. Reportedly Lachey has proposed to TV network executives an idea for a show that allows all the potential fathers to compete to be the father by singing.

The baby was born in an exclusive maternity suite at Cedars Sinai which is reported to cost four thousand dollars a day. "They spared no expense," said hospital spokesman Derek Sanders. "The suite is a three bedroom, two bath private enclave featuring flat screen TVs, chilled juices on ice, muffin baskets, manicures, pedicures and private dinners served in room. Of course, it will take months of clean-up before we are ever able to use it again. We really should have thrown a tarp over the crystal stemware."