our breathtaking newsletter
Weekly gloriousness sent to your inbox.
Friday, October 18th - 7:00 PM-2:00 AM

DERF Happy Hour
Keep checking back here to find out where the next DERF Happy Hour will be!
Anderson Cooper outs self in hopes of getting free tickets to Magic Mike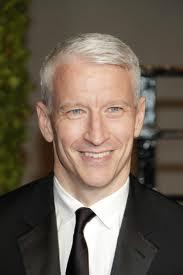 NEW YORK, NY - Anderson Cooper recently made the public announcement that he is gay. He has since announced that he chose this time to come forward with the information in an effort to get free tickets to see the movie Magic Mike.
Magic Mike, which features the adventures of male strippers has been a huge hit. Screenings are full of adoring fans who regularly screech and make cat-calls during the movie. This also happens to be how many viewers react during Anderson Cooper's show on CNN.

The word of mouth and hype over the movie finally got to Anderson. "We had some passes for Magic Mike here at the CNN studios," explained Cooper. "But they all got snatched up by someone. I'm not going to say who, but his name rhymes with Boulf Plitzer. Anyway, I really want to catch this movie, so I figured what better time to let the world know about my sexual orientation."

Cooper went on to say that he hopes viewers understand that his sexual orientation does not, in any way, have influence over his show. "However," Cooper said. "Me being a fan of Magic Mike probably does have an influence over the show. Next weeks we will be interviewing several experts on proper body waxing techniques. We'll also be starting a fun series on the male thong through the ages."