our breathtaking newsletter
Weekly gloriousness sent to your inbox.
Wednesday, February 19th - 5:00 PM-9:00 PM

DERF Happy Hour
Keep checking back here to find out where the next DERF Happy Hour will be!
Tom Cruise buys new elevator shoes in preparation for dating again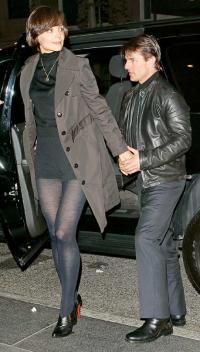 HOLLYWOOD, CA - As the arrangements of his divorce to Katie Holmes were put in place, Tom Cruise took his first step toward single life by buying a new pair of elevator shoes. Cruise hopes that the new lifts will alert the world that he is ready to begin dating again.

For many years, the diminutive actor has worn special shoes to make him appear taller, especially when in the presence of taller actresses such as, well, all of them. However, despite what some may call a hinderance, Cruise has still managed to have a good life. "Many people would have just given up if they had found themselves in Tom's situation, height-wise," said sociologist Dr. Meghan Pare. "I commend him for overcoming his disability and becoming one of the best midget actors since Billy Barty. "He does, however, feel the need to look taller and will do anything to accomplish that. Including jumping on couches."

The new shoes discretely add several inches of height, and are custom made by an undisclosed manufacturer. "We do not discuss Mr. Cruise's footwear," said publicist Joanie Weston. "We will say, however, that the connection he has to little people everywhere has put him in contact with some fantastic little elfin cobblers." It is believed that the amount of height added to the shoes has increased because like most people, Tom is shrinking as he ages.

"I will only comment on the fact that I am ready to begin dating again," said Cruise when asked about the elevator shoes. "I probably don't even need to say it, because these shoes are screaming it! Can you even hear me from way up here? Anyway, I think it is safe to say that I will do whatever it takes to make my female companions feel comfortable. Though, I would really like to find a leggy model who would be willing to have six inches of her femurs removed. I'd also kind of like it if she had a scruffy beard, broad shoulders and a penis."