our breathtaking newsletter
Weekly gloriousness sent to your inbox.
Friday, October 18th - 7:00 PM-2:00 AM

DERF Happy Hour
Keep checking back here to find out where the next DERF Happy Hour will be!
Network convention coverage makes TV viewers yearn for 'Queen City' reruns on FOX19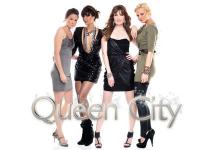 CINCINNATI, OH - The continuous television coverage of the Republican and Democratic political conventions has led to a surprise consequence. Many TV viewers have grown so sick of the political conventions that they have expressed a desire to watch reruns of FOX19's "Queen City" reality show.

"After hours of watching political speeches, I could really stand to watch something slightly less boring," said local TV viewer Marjorie Ranken. "I'm thinking that watching the crazy misadventures of those four lovely ladies in Cincinnati might be just the ticket. Best of all, "Queen City" would be a nice way for me to ease back into entertaining television without being too stimulating. If I were to start off watching something really good, it might be a shock to the system."

FOX19 started getting requests to rerun the show during day one of the Republican National Convention and continues to increase daily through the Democratic Convention. "It doesn't matter which party we're talking about," said Fox audience liaison Amanda Kennedy. "People would actually rather watch the party that happens when four socially active friends get together for drinks and conversation in Cincinnati. Maybe we'll be able to give them their wish on election night with a marathon."

Television critics tend to agree, saying that the predictability, blandness, and occasional awkwardness of political convention coverage can be mind numbing for average viewers. "Clint Eastwood talking to a chair left people scratching their heads," said TV reporter John Wilson. "But Tracey Lynn Conrad talking to a chair would be something I think many Cincinnati viewers would really like to watch. Even if it turned out that she was not actually talking to a chair, but instead she was talking to Katie Cassidy who had made a special dress to disguise herself as a chair. Either way, it would make for some good TV."