our breathtaking newsletter
Weekly gloriousness sent to your inbox.
Friday, October 18th - 7:00 PM-2:00 AM

DERF Happy Hour
Keep checking back here to find out where the next DERF Happy Hour will be!
Honey Boo Boo embarrassed by Pete Rose reality show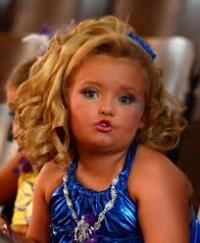 McINTYRE, GA - Fellow TLC reality show star Honey Boo Boo has issued a statement on the new "Pete Rose: Hits & Mrs." program. Honey Boo Boo has declared that the show is an embarrassment to Mr. Rose, TLC, and the American entertainment industry.

"That man, I don't know about that man," said a disgusted Honey Boo Boo. "He is making himself look like a big booger face and it's all just sad so sad. If my Momma ever made me look so stupid and dumb on the TV I would punch her right in the face while she was asleep."

The show, "Pete Rose: Hits & Mrs." recently debuted on TLC and chronicles the life of Pete and his family. Critics have found the show to be dull and lurid and without redeeming social value. Viewers have also not responded well, finding that the Rose family is difficult to connect with. However, TLC says that the show is doing quite well in the all important "creepy old men who are obsessed with fading tragic heroes and their giant breasted wives" demographic.

However the show ultimately fares with viewers and critics, Honey Boo Boo remains solidly against it. "Pete Rose used to be someone I thought I could look up to," she said. "But I'm just embarrassed for him. It's hard to watch. It's like a train wreck, but not one of those fun train wrecks that is fun to watch. It's like one of those really boring and embarrassing train wrecks where you can't even stand to look at it."
Related Stories