our breathtaking newsletter
Weekly gloriousness sent to your inbox.
Friday, October 18th - 7:00 PM-2:00 AM

DERF Happy Hour
Keep checking back here to find out where the next DERF Happy Hour will be!
Roger Clemens appears with Oprah to admit he is ready to forgive Lance Armstrong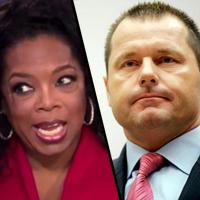 CHICAGO, IL - Former pitcher Roger Clemens made the decision to appear with Oprah Winfrey for an hour long one on one interview. During the interview, Clemens admitted that he is ready to forgive Lance Armstrong for all of his drug related transgressions.

"My silence on this issue has gone on long enough," said a deeply thoughtful Clemens. "Lance Armstrong has come clean, as far as we know, and I've done a great deal of soul searching. The time has come for me to finally admit that I forgive Lance Armstrong for anything he may have done in the past. I would also like to offer him my services if he'd like to give further confessions, especially as it may relate to confessing who his suppliers are or if he needs any help getting rid of any leftover supply. In other news, I might attempt a comeback next year."

Clemens said that it was difficult to come to terms with the situation. "Sure Lance let me down," he explained. "He let all of us down. He shot those miraculous drugs into his veins and he rubbed that sweet delicious cream on his buttocks and, although I have no idea what it must have been like to do those things, I'm sure it was hard to admit to it."

The admission that he has forgiven Armstrong was obviously a hard thing for Clemens to deal with. At one point, he leapt up from his chair and started destroying random objects in the room. The hour long interview is filled with some very emotional moments from Clemens. He spends time laughing and crying, often simultaneously. He also leaves the room occasionally for several minutes at a time, returning to the set while dabbing at fresh needle marks on his arm with a cotton swab.