our breathtaking newsletter
Weekly gloriousness sent to your inbox.
Friday, October 18th - 7:00 PM-2:00 AM

DERF Happy Hour
Keep checking back here to find out where the next DERF Happy Hour will be!
America outraged by Miley Cyrus; slightly agitated by Syrian chemical massacre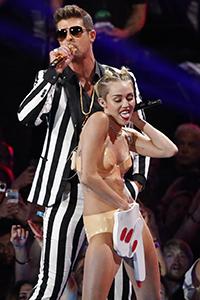 WASHINGTON, DC - Reports have confirmed that Americans are profoundly outraged by the performance given by Miley Cyrus at this year's Video Music Awards. The same reports measure American attitude toward the recent chemical massacre in Syria as "slightly agitated."

The resounding outrage across America over Miley Cyrus' performance at the MTV Video Music Awards has reached an astounding level, according to sociologist Dr. Heather Seaver. "There are very few events that galvanize Americans," Seaver explained. "So far, I'd say it comes down to the second World War, Armstrong landing on the moon, the revolt against New Coke, and now this. Miley Cyrus will go down in history as a powerful but evil force in the history of this nation."

Reaction to the apparent chemical weapon attack by Syria on civilian citizens however, has not created much of a buzz among the population. "Syria? Is that a country?" asked college student Megan Dodge. "I think I've heard of it, but I thought it was a cosmetics line. Anyway, I find it quite irritating to think that a government would kill its own people like that. Especially at a time like this when we're all trying to digest this Miley Cyrus story."

The suspected large scale use of poison gas on civilians has drawn criticism from many in the world community. Reaction in the US has been more subdued. "It's pretty irritating that they may have used chemical weapons to kill their own people," said Mid East Policy Analyst Henry Stephens. "I can understand why Miley is more upsetting. The big oil companies are already gouging us at the pump, so I doubt it has an impact on gas prices. Just another day over in that hell hole."

"We are still gathering evidence," said Secretary of State John Kerry when asked about the incident during a news conference. "But all signs point to this being a moral obscenity that could soon bring a military response. It is reprehensible and outrageous to all right thinking citizens of the world. Especially considering how weird her ass looked in that bikini. It was like a slab of raw chicken." Kerry was then asked about the situation in Syria, but his answer could not be heard over the din of Blurred Lines, as reporters continually watched the Miley Cyrus VMA performance video on their smartphones.