our breathtaking newsletter
Weekly gloriousness sent to your inbox.
Friday, October 18th - 7:00 PM-2:00 AM

DERF Happy Hour
Keep checking back here to find out where the next DERF Happy Hour will be!
Walter White kills John Snow in shocking Game of Thrones finale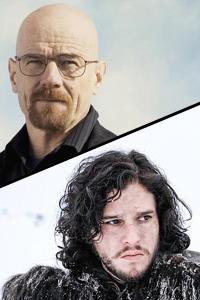 LOS ANGELES, CA - Fans of HBO's popular series, Game of Thrones knew that an exciting and eventful season finale was heading their way. Nothing could prepare them, however, for the plot twist that will keep television fans talking for years to come...science teacher turned meth dealer Walter White's brutal murder of the Night's Watch John Snow.

"I knew there was no way he died at the end of Breaking Bad," said fan Dylan Wainscot. "Walter White was way too cool to die like that. I'm looking forward to seeing where this is going. My guess is that they'll have him put on the Heisenberg hat and marry the Khalesi. Probably teach her dragons how to use chemical mixtures to make their flames even more deadly. She'd be a much hotter wife for him than that hag Skyler."

The showdown between White and Snow occurred just outside of Castle Black, where the shadowy figure of Walter White appeared as John Snow prepared to go out on a trek. Walter White was then somehow able to cause an explosion of ice and fire which left Snow decapitated.

Producers of the series say that they decision to deviate from the books was an easy one. "Is there anything more annoying than listening to someone who has read these books comment on the series?" asked HBO producer Daniel Ivanson. "The answer is no. We figured this would be a great way to get them to shut up and let the rest of us non-book nerds enjoy the show."

As for what is to come, producers are being very tight lipped. There has been speculation that Walter White is actually dead, but still roaming the earth as a Walter White-Walker. There has been no official word announcing the addition of other Breaking Bad characters to the Game of Thrones series, but shortly after the explosion that killed John Snow, a voice in the distance could be heard saying, "Yeah! Science, bitch!"