our breathtaking newsletter
Weekly gloriousness sent to your inbox.
Friday, October 18th - 7:00 PM-2:00 AM

DERF Happy Hour
Keep checking back here to find out where the next DERF Happy Hour will be!
Kentucky residents removing shirts in preparation for WEBN fireworks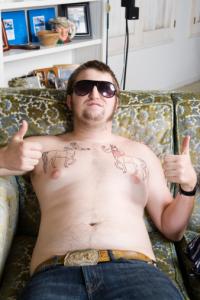 LATONIA, KY - With Labor Day rapidly approaching, people around the Tri-State are getting ready to celebrate the long weekend. Preparation for many Kentucky residents who plan on attending the WEBN fireworks have begun in earnest, as many have already removed their shirts. As an additional measure of preparation, many Kentuckians have stopped showering.

"Whoooo! Yeah!" exclaimed Devin Combs as he exited his Latonia home, removing his shirt and throwing it into the yard. "WEBN! Fireworks! Whoo!" As amazing and eloquent as this speech was, the true sight to behold was Devin's ability to remove his shirt and say the words all while holding a lit cigarette in his mouth.

Similar scenes are taking place all around the Northern Kentucky area. "We have to really be alert this time of year," said Misty Bowling, manager of the Bellevue, Kentucky Kroger. "Our policy banning people from coming into the store shirtless really gets tested on an hourly basis. Usually, we just have them return to their car and have the six year old kid they left in there come in to buy the groceries. Although, if they want to buy beer or cigarettes, they'll have to either find a shirt to put on or find a relative who doesn't party so hard. Also, our soap sales really plummet."

The tradition of not showering ahead of the fireworks dates back to the mid 1980's. "That's when a bunch of us figured out the best way to stake a good spot," said annual fireworks attendee Troy Oakes. "No one wants to sit around me and my family if we're good and ripe and sitting in our own country essence. We don't have to lay down blankets to save our spots, we just roll around on the cement."