our breathtaking newsletter
Weekly gloriousness sent to your inbox.
Friday, October 18th - 7:00 PM-2:00 AM

DERF Happy Hour
Keep checking back here to find out where the next DERF Happy Hour will be!
To expand celebrity status, Drew Lachey continues chicken dancing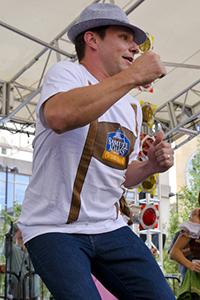 CINCINNATI, OH - Organizers of Oktoberfest Zinzinnati felt that they made a solid choice in picking Nick and Drew Lachey to lead the 2014 rendition of the "World's Largest Chicken Dance." However, the city is surprised by the aftermath of this choice. Drew Lachey has continued to perform the chicken dance on an almost constant basis, well past the close of this years event.

"Nick got in a cab and hit the road," said Oktoberfest organizer Janice Weiss. "We thought Drew would follow him, or maybe take the opportunity to save some money by sharing a cab, but no. He just kept chicken dancing. There was a crowd of a dozen junior high school aged girls watching him and giggling, and he was loving all the attention, so he just kept doing it. Even after those girls moved on and went home to beat their 8pm curfews, Drew continued the dancing for others."

Drew Lachey's dance has continued, despite the closing of Oktoberfest for the year. "I think he hopes that if he keeps going, he can lead the chicken dance again next year," said Weiss. "We already have our hopes set really high on getting Kenny Rogers, so hopefully Drew will give up and go home. Or maybe his agent can find him another gig on a C-list celebrity reality show."

It has not been determined if Drew has stopped dancing in order to eat or sleep. "He came dancing in the front door last night," said Brittany Matthews of Mynt Martini Bar. "I tried to get him to sit down and order some food, but all he wanted to do was have everyone join him in the chicken dance. I even tried to lead him to the men's room in hopes he'd take a little break, but when he walked in and saw there was no audience for his chicken dancing in there, he just left. I think an intervention is in order."

Though the prospect of Drew Lachey continuing the chicken dance throughout the Holiday season and onward to next year's taste of Cincinnati is intriguing, local business owners and law enforcement would like to see an end in sight. "I'm afraid he's going to end up in jail," said Lt. Col. Harold Rowland of the Cincinnati police. "He keeps shaking it down in front of people who are trying to eat lunch and watch the big screen on Fountain Square. It might actually be for the better, there are plenty of inmates who would make a great audience for his chicken dancing."