our breathtaking newsletter
Weekly gloriousness sent to your inbox.
Friday, October 18th - 7:00 PM-2:00 AM

DERF Happy Hour
Keep checking back here to find out where the next DERF Happy Hour will be!
George Clooney loses deposit on wedding reception chocolate fountain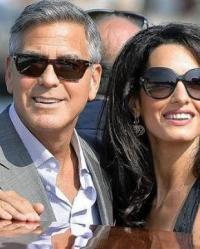 VENICE, ITALY - The marriage of George Clooney to his new bride Amal Alamuddin was reportedly a beautiful affair that went off without a hitch. New details, however, are shedding light on what may be an early black spot on the Clooney-Alamuddin marriage. It has been confirmed that the couple has lost the security deposit on the chocolate fountain they rented for their reception.

"Well, that's gonna take a bite out of the budget," said a disappointed George Clooney. "Hopefully, we won't have to resort to returning wedding gifts to make up for this hit. I'm just glad we were able to find it and have it gloriously dripping chocolate throughout our wedding reception. Who has ever heard of such a thing? Chocolate? Coming out of a fountain? That's one thing about being a celebrity, you get clued in to all the greatest trends."

The couple first decided to pull the trigger on the extravagant and classy chocolate fountain while looking at some reception sites near George's hometown area of Cincinnati. "After discovering that the Maysville Kentucky VFW hall was booked for a bingo night, we went looking at some other places in the tri-state," said Amal Alamuddin. "George suggested we stop by a place where one of his friends had gotten married, Receptions Banquet Hall in Erlanger. They are famous for their artesian collection of cubed cheese and cocktail meatballs. Unfortunately, they were booked too, but that's where we first saw it. And smelled it. Three tiers of only slightly congealed chocolatey goo, filling the air with the scent of saccharin and palm oil."

After settling on Venice for the location of the wedding, George and Amal began their search and finally secured a chocolate fountain for their reception. "Everyone was enjoying it," explained George. "Dipping cookies, fruit, little pieces of cake, marshmallows, and eating the delicious chocolate. I'm pretty sure I know how it broke though. It was either Bono or one of Brad and Angelina's little brats who dropped a meatball in there and gummed up the works. On the bright side, the chocolate covered meatball was delicious."