our breathtaking newsletter
Weekly gloriousness sent to your inbox.
Friday, October 18th - 7:00 PM-2:00 AM

DERF Happy Hour
Keep checking back here to find out where the next DERF Happy Hour will be!
Crocodiles Celebrate Worldwide!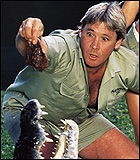 AUSTRALIA-Jubilant crocodiles all over the world celebrated this week as the news of Crocodile Hunter Steve Irwin's death reached rivers and tributaries around the globe. Crocodiles have been dancing in the Everglades since the news reached Florida early Monday. Known infamously within the crocodile community, Irwin has long been considered the number one enemy of crocodiles. Irwin's photo occupies the Ace of Spades card in the crocodile deck of cards indicating Irwin's top enemy status. The stingray that killed Irwin is being honored today in an underwater ceremony to be attended by crocodiles and a variety of other marine wildlife. Rocky, the senior crocodile residing at Australia's National Zoo commented today, "Never again will crocodiles have to endure the humiliation and trauma inflicted by our enemy Steve Irwin. No more lunging after a raw chicken only to be captured with a rope and duct tape."