our breathtaking newsletter
Weekly gloriousness sent to your inbox.
Friday, October 18th - 7:00 PM-2:00 AM

DERF Happy Hour
Keep checking back here to find out where the next DERF Happy Hour will be!
Horse defeated by Chad Johnson delivers self to glue factory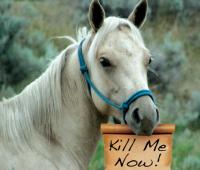 CINCINNATI - Humiliated, depressed, and unable to cope with losing a quarter mile race to Bengals Wide Receiver Chad Johnson at River Downs, champion race horse Restore The Roar arrived at a glue factory in Middletown this week with a suicide note.

Officials greeted the devastated horse upon arrival at the glue factory and attempted to console the animal. Even after trainers and friends reminded the horse Johnson was given a 100 yard head start and was not required to carry a jockey, Restore the Roar was unable to recover emotionally from the loss.

Equine Therapist, James Sanders, said horses are accustomed to competing with other horses and can experience a self-esteem crisis after losing a race to a human being even if the human is a world-class athlete such as Chad Johnson. After several unsuccessful attempts to reverse the horse's suicidal intentions, officials led the horse to the factory floor where preparations for the glue conversion process began.