our breathtaking newsletter
Weekly gloriousness sent to your inbox.
Friday, October 18th - 7:00 PM-2:00 AM

DERF Happy Hour
Keep checking back here to find out where the next DERF Happy Hour will be!
My coworkers don't know I'm a weekend pimp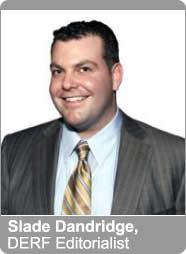 by Slade Dandridge, DERF Columnist
We all need a little separation between our work life and personal life. In my case that's especially true because there is a vast difference between my work like and personal life. During the week I am known as a highly talented and successful columnist with extremely sophisticated communication skills. But on the weekends I bust it pimp style.

Starting Friday night my game elevates 'till the shiznit goes off. All weekend long I'm keepin' it gangsta. For now, it's better my coworkers have no knowledge of this. They won't understand. Let's face it, most people don't understand what kickin' it old school P.I.M.P. is about. The people I work with live in nice taupe-colored houses in places like Mariemont and Westchester. What could they possibly know about getting crunk? I roll with dope 22 inch rims. My coworkers drive minivans and hybrid cars. When they're playing lawn darts and grilling salmon, my bling is propogatn' like fine wine. It just a fact they ain't down with being an elevated money playa. When I'm spittin' mad game with bizotches three layers deep at the club, my coworkers are making fruit smoothies with protein powder and renting the Star Wars Trilogy box set. Possibly some day I will start to introduce my lifestyle to my coworkers. For instance I could start slowly by wearing my 24 karat grill to work. Sure they may laugh at first and think it is a joke. But as I carefully integrate them into the ways of the street I expect they will begin to understand what bringin' it fresh is all about.